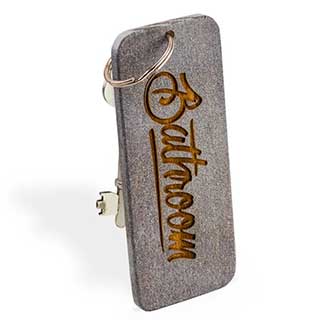 Engraved Wooden Key Tag - 127 X 50mm (5 inch Rectangle) - Grey Wood
Product Number: 5505
A stylish engraved wooden key tag with a unique smooth finish. Three wood finshes are available, dark wood, grey wood and light wood. Available in one size only 127x50mm (5") rectangle with either gold or silver ring fixings.
Your own logo or design can be engraved on one or two sides with options for free standard engraved numbers. Engraving allows the natural colour of wood to show through.
Please note that because of the small engraving area on these key tags, small text and complicated logos will not engrave properly.
Your own design can be engraved One off set up cost £25. Standard Numbers (Free) - Choose from 3 different fonts. Numbers of your choice.
Engraved Wooden Key Tag - 127 X 50mm (5" Rectangle) - Grey Wood - One Side Engraved
Engraved Wooden Key Tag - 127 X 50mm (5" Rectangle) - Grey Wood - Two Sides Engraved