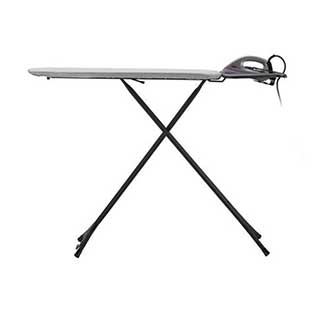 Hotel Ironing Centre - Northmace Valette Bedroom - Free Standing - Safety Dry Iron
Product Number: 4764
Northmace Valette hotel free standing ironing centre with dry safety iron. The favoured and neat solution to in-room guest ironing. A lightweight floor standing ironing centre which can be easily stored in a wardrobe or cupboard, No assembly required.
Complete with Dry Hotel Safety Iron with Auto-Off timer safety feature – 30 seconds horizontal and 8 minutes vertical. Composite heat resistant strap to restrain iron. Metalised cover. Adjustable board height.
Space saving design. Quality steel build for long life. Anti-theft feature securing iron to board. Integral hook for wardrobe hanging. Cord tidy.
Including hook & integrated headpiece: 1400mm (l) x 340mm(w) (approximate dimensions) Power: 220-240v 50/60Hz 900-1100W. 4 years manufacturers guarantee.N
Hotel Ironing Centre - Northmace Valette Bedroom - Free Standing - Safety Dry Iron