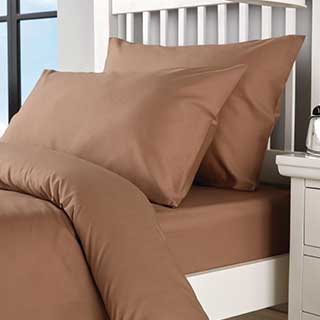 Hotel Pillow Cases - 50/50% Polyester Cotton - Housewife Style - 144tc - Pair - Dyed Colours
Product Number: 1200
Hotel polyester cotton housewife style pillow cases. This high bed linen has a balanced combination of tightly woven fibres to compliment the natural softness of the cotton and the easy care of the polyester.
Durable 50/50% polyester-cotton. 144 Thread Count. Housewife style only. 50x76cm. Sold in pair. Yarn count 30/30. Wash at 60°
Available in White. Dyed colours:- Blue, Navy, Indigo, Turquoise, Mocha, Teal, Green, Oatmeal, Ivory, Claret, Grey, Rose.
Matching duvet covers, flat sheets, valances and fitted sheets available.
Hotel Pillow Cases - Housewife Style - 50/50% Polyester/cotton - 144tc -50x76cm - Pair - Dyed Colours