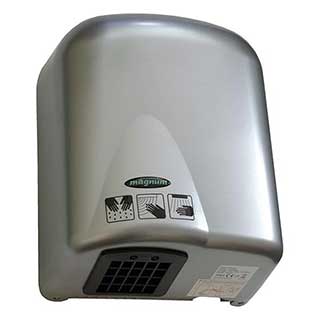 Magnum Standard Hand Dryer - 1650 Watts - Silver Finish
Product Number: 5557
The Magnum Standard hand dryer is the new generation of entry level automatic hand dryers for lower use areas.
The stylish Magnum Standard will compliment most washrooms. Available in white or silver finish.
Drying time 35-40 seconds approx. Air speed 13 m/s. Air Flow 90 cu/m/h. Infra-red automatic. Voltage 220v-240v 50/60Hz. 1650 watts. 60db @ 1 metre. Drip proof IXP1. Class II (double insulated). ABS white or silver painted front.
Dimentions: Width 220mm, Height 280mm, Depth 150mm, Weight 2.6kg. Manufacturers 1 year guarantee.B
Magnum Standard Hand Dryer - 1650 Watts - Silver Finish