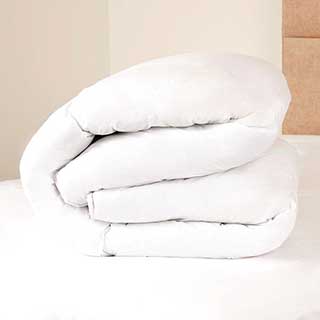 Hotel Duvet - Spring Back Hollowfibre Filling - 10.5 Tog - Anti-allergy - White
Product Number: 1148
Hotel spring back hollowfibre duvet 10.5tog anti allergy. Superior Quality Poly/Cotton Outer Cover. BS 5335 (1991). Anti-Allergy. Perfect for sufferers from allergies, asthma and eczema. Provides permanent dual protection against dust mites and bacteria.
Luxurious 100% spring back super fine hollowfibre filling. 68pic 50/50% polyester-cotton cover. Channel stitched. Bias bound edges. 10.5 tog. Designed to bounce back to natural fullness after use.
Recommended highly for quality and durability. Contract/hotel quality. Manufactured in the UK.
Also available in 4.5 tog, 13.5 tog and 15.0 tog.
Zip & Link Duvets - Spring Back Hollowfibre Filling - Set of 2 each 140x200 (54x78") - 10.5 tog - White
Hotel Duvet - Spring Back Hollowfibre Filled - 10.5 tog - Anti-allergy - Single size - 137x198cm (54"x78") - White
Hotel Duvet - Spring Back Hollowfibre Filled - 10.5 tog - Anti-allergy - Double size - 198x198cm (78"x78") - White
Hotel Duvet - Spring Back Hollowfibre Filled - 10.5 tog - Anti-allergy - King size - 228x218cm (90"x86") - White
Hotel Duvet - Spring Back Hollowfibre Filled - 10.5 tog - Anti-allergy - Super King size - 274x218cm (108"x86") - White