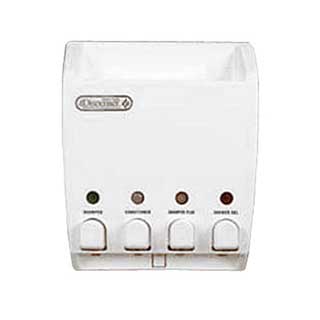 Hotel Toiletries - Soap Dispenser - Class Iv Shower Caddy - Wall Mounted - White
Product Number: 4359
An attractive looking refillable soap dispenser with four refillable chambers. Manufactured from quality strong durable, water-resistant white ABS plastic. Available in 4 sizes - One chamber, Two chambers, Three chambers amd Four Chambers.
Smooth reliable soap dispenser, ideal for bathrooms, showers, washrooms, toilets, spas, kitchens, etc as it eliminates bottle clutter. Includes sheet of self-adhesive labels.
Pump pre-measures right amount of soap to reduce waste. Level of soap, etc can be seen through clear ABS plastic. Lid lifts up for easy refilling. Installs in minutes without tools, using waterproof silicone adhesive and 2-way tape (included).
Comes complete with all fixings for easy installation on any surface. All wall fixings are hidden for a clean finish. Dimensions 240mm w x 80mm d x 295mm h. Capacity 350ml per chamber.
Hotel Toiletries - Soap Dispenser - Class Iv Shower Caddy - Wall Mounted - White