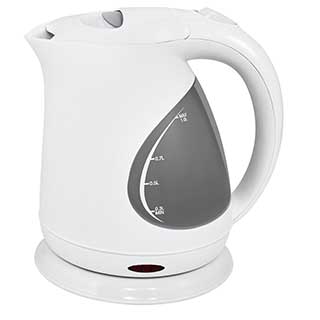 Hotel Kettle - Corby Lancaster Cordless Jug Kettle - 1 Litre - White - Case Of 6
Product Number: 1789
Hotel cordless jug kettle. 1 litre capacity. Water level gauge. Specifically designed for the hotel guest room, this 1 litre kettle incorporates concealed element, boil dry protection, lockable lid with pull handle opening and Strix controls.
Strix controlled with auto-switch off boil dry protection. Additonal "lift off reset" safety feature. LED power indicator light. 360° cordless operation.
Concealed heating element. Lockable lid with pull handle opening. Integrated cord tidy 1250 - 1500 watt - 220-240V 50Hz.
AAvailable in White or Black. Fully Certified & CE Marked. Cable length 0.7m. Warranty 3 years. Dimensions: Height 190mm. Width 143mm. Depth 180mm. Weight 800g. Sold in case quantity of 6.
Hotel Kettle - Corby Lancaster Cordless Jug Kettle - 1 Litre - White - Case of 6