Our luxuriously cosy bathrobes are all made from finest quality fabrics. We supply 100% cotton waffle bathrobes, microfibre bathrobes, towelling bathrobes and velour bathrobes. All our bathrobes are highly absorbent and machine washable. They are ideal for hotels, apartments, guest houses, holiday cottages and spas. We also supply bath robe storage bags which present your bathrobes nicely for your guests and keep your bathrobes clean and hygienic. Our hotel slippers are available in a range of materials for use by the pool, in the bathroom or in the spa, compliment our range of bathrobes.
Bathrobe Storage Bags
Bath robe storage bags to store bathrobes hygienically and tidily for your guests.

Available in mesh fabric or strong PVC to suit your hotel or establishment

Both have a white zip fastener
Cotton Waffle Bathrobes
Luxury cotton waffle bathrobes for hotels and spas.

Lightweight and luxurious with a honeycomb weave, your guests will love the soft feel on their skin.

Choose from a Kimono or shawl design
Hotel Slippers
High quality disposable slippers ideal for use in any hotel or spa. Clean and hygienic, and offering your guests luxury and comfort.

Available as closed toe, open toe or flip flop styles, the luxury slippers are lightweight and comfortable.
Microfibre Bathrobes
Ultra-soft microfibre hotel bathrobes, luxuriously soft and cosy so your guest can relax.

Made from lightweight fluffy soft polyester fibres, they are probably the most comfortable bathrobe ever.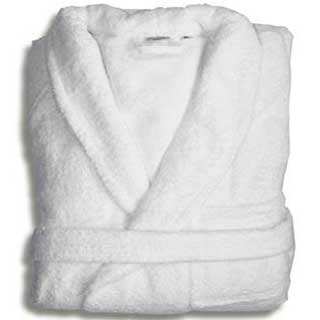 Towelling Bathrobes
Luxury, high quality Terry towelling bathrobes and dressing gowns, ideal to help your guest relax after a long day.

Available as shawl or Kimono style, with or without pockets. Childrens robes also available.

Made from 100% cotton
Velour Bathrobes
Velour and terry towelling hotel bathrobes with shawl collar are luxuriously soft. Manufactured from the finest quality cotton velour and terry towelling.

Sumptuous cotton velour with a lining of the softest quality cotton terry towelling