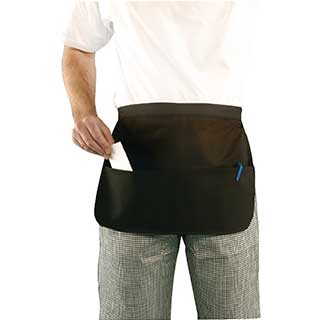 Hotel Aprons - Whites Money Pocket Apron - 305(h) X 450(w)mm - Black
Product Number: 1524
A simple and effective black money pocket apron allows staff to store the esentials within the pockets, while keeping their hands free. Its one size fits all makes it a suitable choice for a variety of different uniforms.
Aprons with money pockets are particularly useful for those staff serving across wide bars. Lightweight and durable, polyester/cotton is a versatile material which is suited to heavy use and commercial laundering.
Dimensions 305(H) x 450(W)mm. Material Polyester/cotton. Weight of fabric 195g/m². Pocket Size 310(W)x 145(L)mm. Durable and easy to clean. Ideal for use by either male or female staff.
We have a wide range of aprons and chefs wear available.ML
Hotel Aprons - Whites Money Pocket Apron - 305(h) X 450(w)mm - Black