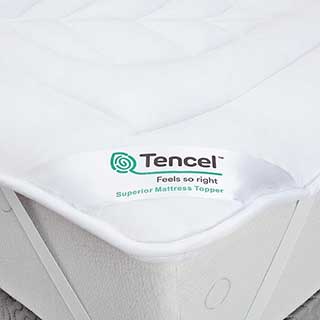 Hotel Luxury Superior Tencel Mattress Topper - White
Product Number: 5630
This 1000gsm quilted topper comprises of a Tencel filling to ensure a pleasant night's sleep.
Inner Filling: 30% Tencel, 70% polyester Hollowfibre. Fitting: Elasticated corner bands. Outer Cover: 100% polyester microfibre.
Weight: 1000g/m². Thickness : 5-7cm
Available in Single 90x190cm, Double, King, Super King and Zip & Link sizes. Zip & Link size is a set of 2 which zip together, Each topper measures 90x200cm.
Hotel Luxury Superior Tencel Mattress Topper - Single size 90x190cm - White
Hotel Luxury Superior Tencel Mattress Topper - Double size 135x190cm - White
Hotel Luxury Superior Tencel Mattress Topper - King size 152x200cm - White
Hotel Luxury Superior Tencel Mattress Topper - Super King size 192x200cm - White
Hotel Luxury Superior Tencel Mattress Topper - Zip & Link size Set of 2 - Each Topper measures 90x200cm - White